Improving The Availability of OTC Company Financial Data
At OTC Markets Group (OTCQX: OTCM), our mission is to create smarter financial marketplaces. One core feature of efficient financial marketplaces is the availability and quality of financial disclosure so investors can easily analyze company information. To improve the availability of company information for OTCQX, OTCQB and OTC Pink companies, we have partnered with EDGAR Online (NASDAQ: EDGR) to transform historical financial statements into an XBRL database.
This is a new feature for companies that use our OTCQX marketplace or the OTC Disclosure & News Service to distribute their financial disclosure in PDF format. Wider availability of historical financial information will empower investors with easier access, improved analysis and better decision making.
Historical financial report data for OTCQX-traded companies and OTC Disclosure & News Service subscribers is now accessible to investors on www.otcmarkets.com and Yahoo! Finance and through professional databases for institutional investors. Investors are now able to more easily analyze company financial data for hundreds of OTCQX, OTCQB, and OTC Pink-traded companies that provide disclosure using the International Reporting Standard, report to U.S. banking regulators, or follow the Alternative Reporting Standard.
For more information about this groundbreaking new feature, we invite you to read the following Forbes and Washington Post articles.
Help investors better analyze your company information and start building a smarter marketplace. Contact us to learn more >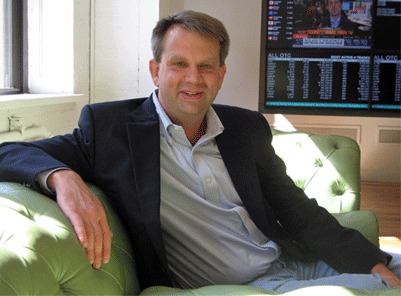 Get to Know Your Community:
Michael Modeski, President, OTC Link LLC
This month, we sat down with Michael Modeski, President of OTC Link® LLC, a wholly-owned subsidiary of OTC Markets Group Inc. (OTCQX: OTCM).
Q: Can you explain the reasoning behind OTC Link registering as an Alternative Trading System (ATS)?
A: As we have improved the transparency and connectivity in the OTC markets, volume and breadth of the marketplace have grown extensively. Our trading technology is now relied upon by broker-dealers for well over 95% of all priced quotes in OTC equity securities. Based on these developments and our significant position in U.S. securities markets, it was time to register our trading system as an ATS.

After working with FINRA and the SEC to ensure the continued smooth operation for our subscribers, OTC Link became a broker-dealer member of FINRA on March 5, 2012, and commenced operations as an SEC-regulated ATS on June 1, 2012.

Going forward, the SEC and FINRA will have direct regulatory oversight of the operations of OTC Link ATS.
Q: What is the business impact of OTC Link becoming an ATS?
A: In preparing OTC Link to become a regulated entity, we had the opportunity to review our policies and procedures, and update our best practices. We took our process, which had been successfully serving regulated broker-dealers, and refined it to better serve them and meet our obligations to regulators going forward.

We worked with the SEC and FINRA to ensure that as a regulated ATS the functionality of our system would not change -- we continue to provide fully attributable quote and trade messaging services. Broker-dealer subscribers to OTC Link ATS use the same trading system that has helped them fuel the growth of the OTC market.
OTC Market Regulation & Compliance
DAD/PAL Eligibility Amendments
OTC Markets Group amended the DAD/PAL eligibility standards based on feedback from our DAD/PAL advisory community and OTCQX companies. These changes should expand the pool of investment banks that can provide professional advisory services to OTCQX companies.
The new standards, available here: otcqx.com/qx/dad-pal/forms, became effective on June 11, 2012.
Market Data Updates
Yahoo! has removed the legacy extensions previously amended to the trading symbols of OTC securities. Investors will no longer see '.pk' or '.ob' after the trading symbols of any OTC security. Take a look >
Quote Access Payment (QAP®) information, featuring the access fee or rebate published by an OTC market participant related to the quote of a particular security, is now available to users of the Bloomberg Professional service. Read More >
OTC Events
OTC Markets Group has attended or will be participating in the following events to educate investors, broker-dealers, and OTC companies about our marketplace.
STANY Golf Outing (July 30, 2012)
IR Awards Brazil (July 2, 2012)
IR Awards Europe (June 26, 2012)
Marcum Microcap Conference (June 20, 2012)
Reverse Merger Conference (June 5, 2012)
Contact us if you are interested in meeting us at one of these events.
OTC Market Monthly Trade Summary - June 2012
OTC Market Tier
# Securities*
Monthly Dollar Volume
Avg. Monthly Dollar Volume
per Security
Market Capitalization
(in Millions)*
OTCQX®
383
$1,459,409,391
$3,810,468
$1,086,487
OTCQB®
3,522
$2,435,412,610
$691,486
$201,535
OTC Pink® Current Information
2,280
$5,797,108,840
$2,542,592
$8,865,644
OTC Pink Limited Information
742
$90,143,055
$121,487
$8,484
OTC Pink No Information
2,931
$432,876,749
$147,689
$27,634
Totals
9,858
$10,214,950,645
$10,189,784

* Selected data as of June 29, 2012.
OTC Market Trade Summary - 6 Months Ended June 2012
OTC Market Tier
# Securities*
Dollar Volume
Avg. Dollar Volume
per Security
Market Capitalization
(in Millions)*
OTCQX®
383
$12,363,700,630
$32,281,203
$1,086,487
OTCQB®
3,522
$18,855,606,017
$5,353,664
$201,535
OTC Pink® Current Information
2,280
$42,152,594,961
$18,487,980
$8,865,644
OTC Pink Limited Information
742
$3,043,772,510
$4,102,119
$8,484
OTC Pink No Information
2,931
$1,679,522,136
$573,020
$27,634
Totals
9,858
$78,095,196,254
$10,189,784

* Selected data as of June 29, 2012.